HDFC MONEY BACK CREDIT CARD (VISA)
This is one of the credit card from HDFC, and Money back+ Credit card. Below we discuss all facts related to this credit card and how to apply also.
Eligibility
HDFC Bank MoneyBack+ Credit Card Eligibility:
Nationality :- Indian
Salaried
Age: Min 21 yrs. & Max 60 Yrs.,
Income: Gross Monthly Income> ₹20,000
Self Employed
Age: Min 21 yrs. & Max 65 Yrs.,
Income: ITR > ₹6.0 Lakhs per annum
Features:-
Main Features
10X Cash Points on Amazon, Flipkart, Big Basket , Swiggy & Reliance Smart Super Store
5X Cash Points on EMI spends at merchant locations
2 Cash Points per ₹150 spent on other spends ( Excluding fuel, wallets loads/prepaid card loads & voucher purchases )
Get ₹500 gift voucher on spends on ₹50,000 per calendar quarter
Upto 15% off at 2000+ premium restaurants in select cities. click here for more details
For detailed Terms and conditions Click here
Additional Features
Zero lost Card liability :
In the unfortunate event of losing your HDFC Bank Moneyback+ Credit Card, report it immediately to our 24-hour call centre.
HDFC Bank/Customer service
1800 202 6161
On reporting the loss immediately, you have zero liability on any fraudulent transactions made on your Credit Card.
Interest Free Credit Period :
Avail up to 50 days of interest free period on your HDFC Bank Moneyback+ Credit Card from the date of purchase (subject to the submission of the charge by the Merchant).
​​​​​​​
Revolving Credit :
Enjoy Revolving Credit on your HDFC Bank Moneyback+ Credit Card at nominal interest rate. Please refer to the Fees and Charges section for more details.
Fuel Surcharge Waiver
1% Fuel Surcharge waiver on fuel transactions (Minimum transaction of ₹400, Maximum transaction of ₹5,000 & Maximum waiver of ₹250 per statement cycle)
Renewal Benefit
Membership Fee:-500 Cash Points (applicable only on payment of membership fee)
Quarterly Spend based benefit:-Every Calendar quarter, get a gift voucher worth ₹500 on spends of ₹50,000 & above. Earn up to ₹2,000 worth gift vouchers in a year.
Renewal Offer:-Get renewal membership fee waived off by spending ₹50,000 and above in an annual year
Smart EMI
HDFC Bank MoneyBack+ Credit Card comes with an option. If you not able to pay current month bill, then you convert total billing amount to EMI or convert your big spends into EMI after purchase. To know more click here
Contactless Payment ( Without inset card)
The HDFC Bank MoneyBack+ Credit Card is enabled for contactless payments, facilitating fast, convenient and secure payments at retail outlets.
Please note that in India, payment through contactless mode is allowed for a maximum of ₹5000 for a single transaction where you are not asked to input your Credit Card PIN. However, if the amount is higher than or equal to ₹5000, the Card holder has to enter the Credit Card PIN for security reasons.
Reward Point/Cash back Redemption
The Cash Points earned on HDFC Bank Money Back+ Credit Card can be redeemed against the statement balance at the rate of 1 Cash Point = ₹0.25, and can be done via Net Banking login, Phone Banking, or physical redemption form
Cash Points can also be used for redemption against travel benefits like Flight & Hotel bookings and also on Rewards Catalogue at the Smart Buy Rewards Portal, wherein Credit Card members can redeem up to a maximum of 50% of the booking value through Cash Points at a value of 1 Cash Point = ₹0.25 and the rest of the amount will have to be paid via the Credit Card. To know more on Rewards catalouge, click here
For redemption against statement balance, Cardholder must have minimum Cash Points equivalent to ₹500
Validity :- Cash Points earned on your HDFC Bank Money Back+ Credit Card are valid only for 2 years from the date of transaction. e.g. if you receive Reward Points in August 2021, same will expire in August 2023
Fee & Charges
Joining/Renewal Membership Fee – ₹500/- + Applicable Taxes
Spend ₹50,000 or more in a year, before your Credit Card renewal date and get your renewal fee waived off
Please click here for detailed fees and charges applicable on your HDFC Bank MoneyBack+ Credit Card.
The Bank reserves the right to cancel the Card in case the Card remains inactive and is not used for effecting any transaction for a continuous period of 6 (Six) months after prior written notice sent on the email address and/or phone number and/or communication address, registered in the records of the Bank.
CLICK TO HDFC MONEY BACK+CREDIT CARD APPLY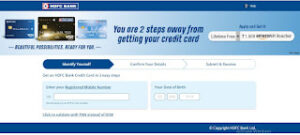 Step-1 Click on above link
Step-2 Enter Mobile Number and Date of Birth
Step-3 Enter OTP
Step-4 Enter and Confirm Your Details
Step-5 Submit & Receive