Sign the PDF File Without Printing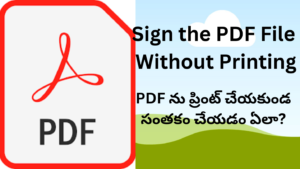 PDF (Portable Document Format) | Sign the PDF File Without Printing
PDF, which stands for Portable Document Format, is a file format developed by Adobe Systems in the 1990s. It's designed to preserve the formatting and layout of documents across different operating systems and software applications, making it an ideal format for sharing documents that need to appear the same way regardless of the device or software being used to view them.
Key features of PDFs include:
Cross-Platform Compatibility: PDFs can be opened and viewed on various operating systems (Windows, macOS, Linux) and devices (computers, tablets, smartphones) without the need for specific software.
Preservation of Formatting: PDFs maintain the layout, fonts, images, and formatting of the original document, ensuring that the document looks the same to all viewers.
Security Features: PDFs can be encrypted and password-protected to restrict access, prevent editing, or limit printing and copying. This makes them useful for sensitive documents.
Interactive Elements: PDFs can contain links, buttons, forms, multimedia, and other interactive elements, making them suitable for creating interactive documents like forms, presentations, and ebooks.
Compact Size: PDFs can contain compressed data, which helps to keep the file size relatively small while maintaining the quality of the document.
Read-Only Nature: By default, PDFs are meant to be read-only documents, which helps prevent unintentional changes to the content.
Print-Friendly: PDFs are designed to be print-friendly, ensuring that documents can be accurately reproduced in print form.
To create and manipulate PDF files, you can use various tools and software, including:
Adobe Acrobat: This is one of the most popular tools for creating, editing, and managing PDF files. It offers a wide range of features, from basic PDF creation to advanced editing and form creation.
Online Converters: There are many online tools available that allow you to convert different document formats (such as Word, PowerPoint, Excel) into PDFs without needing specific software.
LibreOffice: This open-source office suite includes a "Export as PDF" option for converting documents to the PDF format.
Microsoft Office: Programs like Word, Excel, and PowerPoint have built-in features for saving or exporting files as PDFs.
PDF Editing Software: Apart from Adobe Acrobat, there are various other software options for editing PDFs, such as Foxit PhantomPDF and Nitro Pro.
Programming Libraries: If you're a developer, you can use programming libraries like iText or PDFLib to generate or manipulate PDF files programmatically.
Keep in mind that while PDFs are generally great for preserving document formatting, they might not be the best choice for documents that need to be collaboratively edited or documents that require ongoing changes, as the editing process can be more cumbersome compared to formats like Word or Google Docs.
Sign the PDF File Without Printing:
How to Sign the PDF File Without Printing:
Open below Link in your Mobile Phone
Click on the PDF24 Tools
Next Click on Sign PDF
Upload File which you want to Sign
A New window opened for Sign
Put Your Signature and adjust the correct place in document.