Rakesh Jhunjhunwala was an Indian Investor and stock Trader. He born on 5th July 1960 at Hyderabad. He belongs to Rajasthani Family. His father was worked as a Commissioner of Income Tax in Bombay. He graduated from Sydenham College. After the he enrolled at the Institute of chartered Accounts of India.
Personal Life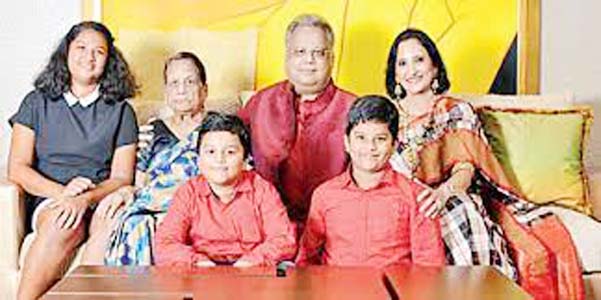 Father:- Radheshyamji Jhunjhunwala
Mather :-Urmila Jhunjhunwala
Spouse:- Rekha Jhunjhunwala
Children:- 1) Nishtha Jhunjhunwala, 2) Aryaman Jhunjhunwala, 3) Aryavir Jhunjhunwala
Career
Rakesh Jhunjhunwala is  interest in stock markets arose when he observed his father discussing about the stock market with his friends. While his father guided him on the   share market, he never gave him money to invest and forbade him from asking friends for money. With his savings at hand Rakesh Jhunjhunwala  started investing early when in college. Beginning with ₹5,000 capital in 1985, today his investment has grown to ₹11,000 crores.
The first big profit of Rakesh Jhunjhunwala was ₹5 lakh in 1986. Between 1986 and 1989, he earned almost ₹20-25 lakh profit. At present, he had an estimated net worth of $5.5 Billion   as on July 2022 making him the 36th richest man in India, he is a  founder of  Akasa Airlines.
Death
Rakesh Jhunjhunwala felt some uneasiness in health and join in Breach Candy Hospital in Mumbai on 14 August 2022 He died at around 6:30 AM. Doctors reported that he also suffered from kidney related problem and multiple organs failure. His passing away is saddening. He is Hero of Indian Stock Traders and Investors.